Singing Lessons from Liverpool. City of Music.
Sing with more confidence and with a better technique

.
Voice Lessons Liverpool was founded by Barry Gerald Webb in 2015. I have worked as a professional musician

for over 30 years, as an

opera and cabaret singer, teacher, composer and conductor, with International companies and my own

creations. In 2018 I was awarded an Arts Council of England grant to conduct my opera 'Nepomuk'.

I will teach you how to sing with a

'bel canto' (beautiful singing) technique. I also teach Speech Level Singing.

My pupils sing 

in music theatre,

opera,

pop or jazz, in groups or as soloists.
Some of the projects I have sung with are the Royal Opera House chorus from 1998 to 2011,  in Cabaret on the ship the Queen Elizabeth II, and on the sound-track in chorus of both Star Wars and Lord of the Rings.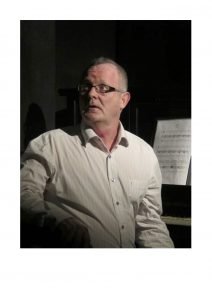 TEACHING DURING THE COVID CRISIS
In Person lessons will resume from 12th April 2021 in secure Risk Assessed venues.
Or if you prefer, lessons are also online on Zoom for the duration of the crisis in the UK.
I teach in the following secure Risk Assessed venues.
NORTH LIVERPOOL : 
BIRCHDALE ROAD WATERLOO METHODIST HALL .
CENTRAL LIVERPOOL:
VULCAN STUDIOS,68 Waterloo Rd, Liverpool L3 7BE. 
I teach at the Methodist Hall on Tuesdays from 3:30pm to 6:30pm and Thursdays from 3pm to 7pm, also at times at these venues by arrangement. Also at the Vulcan Studios by arrangement.
MAP SHOWING LIVERPOOL NORTH STUDIO 
2A Birchdale Rd, Waterloo, Liverpool L22 9QX
BOOK
For a free 15 minute online voice consultation, let's talk.